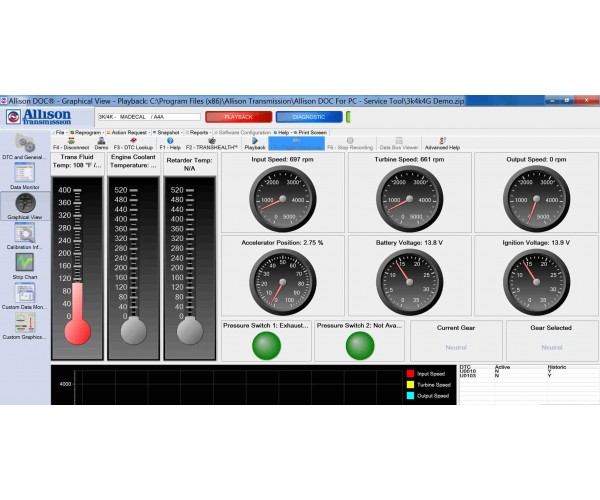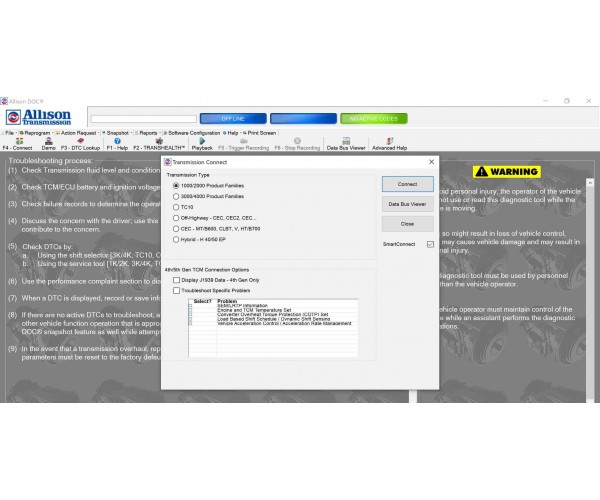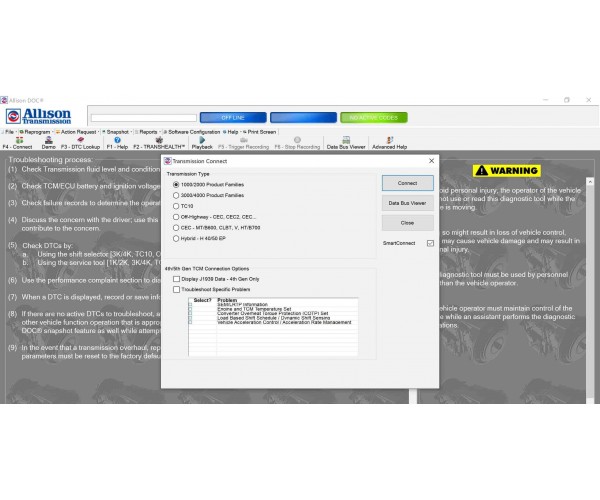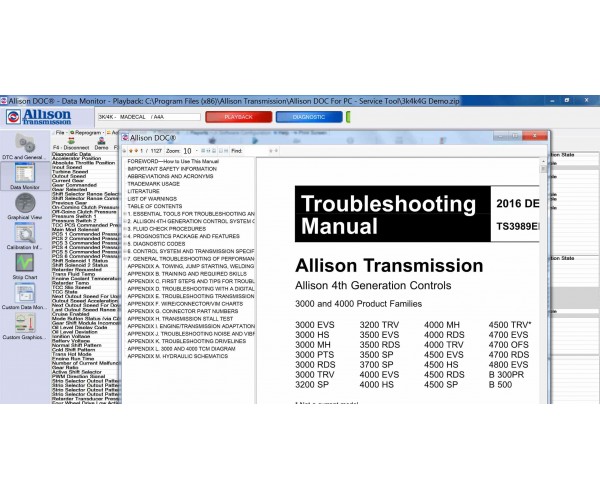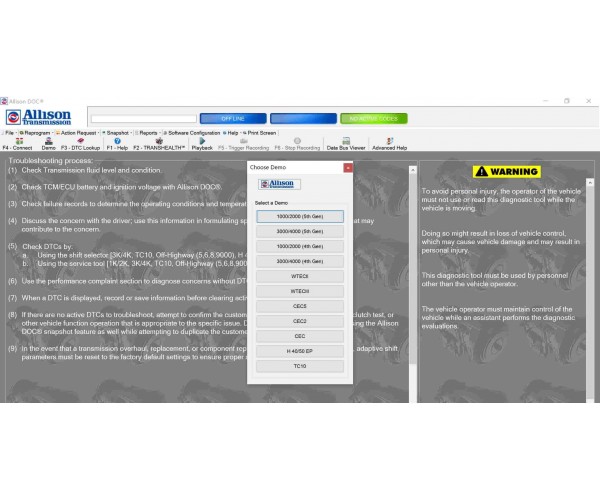 Allison DOC Full Version v2019.3 + Gen 5 Data files with Programming
Install with Remote (Team viewer)
Fast install & Activation
No Shipping
Online Support
Ship to:

15$ whit

ARAMEX

To UNITED STATES&nbsp &nbsp &nbspNORTH AMERICA
Not right?
Description
The Allison DOC (Diagnostic Optimized Connection) for PC-Service Tool is a diagnostic system designed for use with Allison's 3000/4000 Product Families transmissions, 1000/2000 Product Families transmissions, TC10 transmissions and transmissions using CEC5/CEC3/CEC2/CEC1 controls.
Allison DOC for PC-Service Tool has been designed to aid you, technician, in troubleshooting and maintaining Allison transmissions equipped with Allison 5th Generation Controls (including TC10), 4th Generation Controls, WTEC II, WTEC III, CEC5, CEC3, CEC2, CEC1, and 1000/2000 (Allison Pre-4th Generation Controls) systems.
This PC-based program is capable of communicating with Allison 5th Generation Control System Module TCMs (1000/2000, 3000/4000, and CEC3), WTEC II and WTEC III Electronic Control Units (ECU), 1000/2000 (Allison Pre-4th Generation Controls) TCMs, CEC2, and CEC1 Electronic Control Units (ECU).
Allison DOC Premium is compliant with applicable TMC Recommended Practices, SAE Standards, and CE Standards.
Allison DOC Premium is RP1210C compliant and adds RP1210C enhancements. This service tool can be used with a desktop PC or with laptop PC in the cab of the vehicle.
New Features and Enhancements included in V2019.3 also contents 2019/12 GEN5 files:
Ability to auto-try channels (5th Gen / Type-2 vehicle connections) for OEMs who have wired the TCM diagnostics to CAN 2 or CAN 3
Ability to find the correct CAN data bus for diagnostics
Eliminates the need for OEM specific cross-over cables
Ability to select the channel for Data Bus Viewer
Allows reprogramming of DYNAMIC SHIFT SENSING: Custom Breakpoint Setting
Allows reprogramming of RETARDER: Use Accumulator
Allows reprogramming of SHIFT SELECTORS: Preselect Time Out with password from Allison TAC
Allows reprogramming of SHIFT SELECTORS: Preselect Time Out Duration and Range when SHIFT SELECTORS: Preselect Time Out is Enabled
Adds Troubleshooting Manual for Off-Highway CEC5
Also, when purchasing this product you get:
Security measures to control reprogramming TCM/ECU parameters
Integrated Help with training videos
Diagnostic Trouble Code information with a direct link to Troubleshooting Manuals for CEC2/CEC3/CEC5, 1000/2000, 3000/4000 and TC10 Product Families
A demo mode using prerecorded data
SmartConnect for detecting the PC-to-vehicle translation device and communication link
Communication troubleshooting wizard for those cases where the tool is unable to connect to a control module.
Full administrative privileges are required to install, use, the update Allison DOC® Premium, but don't worry we provide after-sales service and support. Our managers to help you.
The Allison DOC® V2019.2 Subscription update includes the following new features/functions:
Updates specific to Allison DOC® Premium:
Adds TRANSHEALTH™ history information on Prognostics tab, including Percent Clutch Life Remaining for
each clutch
TRANSHEALTH™ support added for 1000/2000 for 4th Gen MYIO and later and 5th Gen
The display message "This software level does not support TRANSHEALTH™ " when the software
the level is 1000/2000 MYIO and later goes away with this change
Defect fixes:
FuelSense® 2.0 ARM and Custom Limits Reprogramming
Off-Highway CEC 2 TS Manual fatal error
Off-Highway CEC 3 Transmission Data error
Off-Highway CEC 51/0 wire issues
Updates specific to Allison DOC® Fleets (FuelSense®):
Fix for FuelSense® 2.0 ARM level programming for pre-MY18 ICM software
Updates specific to Allison DOC® Fleets
TRANSHEALTH™ Monitor support added for 1000/2000 for 4th Gen MYIO and later and 5th Gen
New Features and Enhancements included in V2019.1
The Allison DOC® V2019 .1 Subscription update includes the following new features/functions:
Service Tool security upgrades to align with current Microsoft support
Advanced Help Video update to allow non-administrator use
Updates specific to Allison DOC® Premium:
Updated DIC descriptions
Displays Main Processor Module (MPM) Software Level on ICM Information grid for Off-Highway
Adds new DTCs
Updates specific to Allison DOC® Premium (H 40/50 EP™ ):
Updates 4th/5th Gen Troubleshooting Manual
H 40/50 EP™ User Guide updates
Adds links from Energy Storage System faults to appropriate troubleshooting steps in Troubleshooting Manual
The program covers the following options:
Allison DOC Training Videos
Demo
DTC Lookup
Troubleshooting Manuals
Technician's Library
Access to Allison Web Site
Hydraulic Schematics
Allison Transmission Calc
Configure Internet Connection
Display Activation License Information
Reset License Information
Reactivate Immediately
This diagnostic software covers information for these Allison Transmission Family:
1000/2000 Product Families (5th Generation)
1000/2000 Product Families (4th Generation)
1000/2000 Product Families (Pre-4th Generation)
3000/4000 Product Families (5th Generation)
3000/4000 Product Families (4th Generation)
TC10 Product Families
WTECII Product Families
WTECIII Product Families
CEC5 Product Families
CEC3 Product Families
H 40/50 EP (4th Generation)
H 40/50 EP (Pre-4th Generation)
Contact Information:
Whatsapp: +86 183 4923 2556 - +8619881513864
Live Support: Chat with us online
Email: sales@itcdiag.com - info@itcdiag.com
Skype : Sales ITCDiag - info@itcdiag.com